Hospitality is what we do
Here at Mindboost we have such a passion for the hospitality sector, we want to help all of those businesses get back to normal trading with providing an array of different courses that can help prepare your business and team to get back to normal and show customers your business is safe.
Now that the hospitality sector is able to open up again, it's important as a business that you are prepared to ensure customer safety and confidence is met in all the new measures you've taken when they start to come back.
Did you know?
Did you know over 65% of consumers have not yet dined out! And the reason all seems to stem from concerns around safety…
It doesn't come as any surprise that there are new safety procedure's being put in place after COVID, after being closed for so long you will want your business working as normal in the first few weeks! But you might find that business will be slow to start off with which will be the case for most businesses.
We understand the frustration, with having a hand and experience in a hospitality business ourselves, so our little monsters at Mindboost would like to offer a few pointers to help when reopening.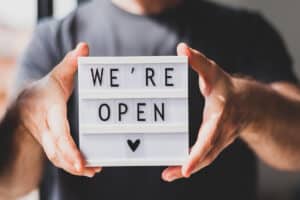 In addition to the governments 'Eat Out to Help Out' initiative, which seems to be attracting customers, Mindboost recently joined UK hospitality's webinar about returning to out of home dining and we picked up on some valuable information that we think would benefit you! Looking at the survey they provided, it's no surprise that the biggest appeal to the customers right now is if you can provide a safe and hygienic place and experience to eat outside their household.
This means making sure your staff are provided with protective equipment, social distancing within the business such as tables, people. Customers will look for confidence within the business that they will be safe and comfortable when going to your businesses.
How can we help
We have just the thing to help! Mindboost offers courses in food hygiene and working safely which comes with a lifetime certification, which can be completed anywhere on any device! This is the perfect course for your business right now as it's important that your business can demonstrate your team know what they are doing and doing it right.
Once completed share with your customers and make sure they know that hygiene and safety are important to your business and they are in safe hand when choosing you to dine out!
Our Mindboost team are eager to answer any questions or advice needed and are only or call or message away!