More and more employee onboarding, off-boarding and re-boarding is going online. In part, the trend is due to the pandemic and the way it rapidly changed the way we work. We can't put it all down to COVID-19 though. We are in an era of digital transformational, accelerated growth and a VUCA world. Organisations across the world are adapting their onboarding process, systems and ways of working to better utilise technology – the cloud, AI, the Metaverse.
Digital onboarding is not purely a top-down initiative, though. While it is in led by technological advancements, in part, it also needs to be led by people.
Rudy Shoushany, Founder & host of DxTalks, lists 'The Hybrid Work Model' as one of the top 5 digital transformation trends. He cites 'results of a survey by Gallup revealed that "54% of employees who work remotely at least some of the time say they would ideally like to split their time between working at home and in the office—a hybrid arrangement."
The way people want to work is changing and organisations need to update their onboarding and engagement processes to meet the needs of the modern employee.
If you're still not convinced that digital onboarding is the way to go for your organisation, consider it as an opportunity. An opportunity for new ways of working, to reach a global talent pool, and to develop a people-first approach to your onboarding programme.
New ways of working
Gone are the days of people working in offices 9-5, 5 days a week. More than ever, people are choosing to work in a 'hybrid' way. That's a mix of working from home and in the office, but could also include 'digital nomads', those working in shared office. It's also worth considering the combination of permanent, temporary and freelance employees that make up a workforce.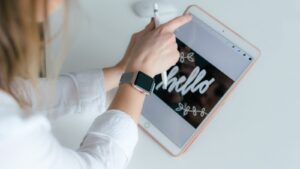 We can't expect this evolving workforce to take part in fully face-to-face onboarding programmes. Organisations need to stay on agile and provide new bespoke onboarding solutions that scream out the positive culture of an organisation. A digital approach. Similar to a face-to-face onboarding programme, a digital onboarding programme is made up of many parts. There's usually a central learning platform, custom elearning content, virtual instructor led training and social forums, to name a few. With digital onboarding, new hires can access everything they need online, wherever they are – at home, in the office or on a beach in Mexico.
This presents a huge opportunity for your business. Because digital onboarding can reach people all over the world with little time and cost, your talent pool is bigger. Introducing new hires from across the globe could bring new skills, perspectives and diversity to your organisation. With an effective and bespoke digital onboarding programme, they won't need to travel across the world to meet colleagues and be immersed in the culture. They'll have everything they need, at their fingertips.
Learn more, faster
Another benefit of digital onboarding is in the management of your onboarding processes and systems. There are lots of elements, which can be tough to keep on top of, especially across business units, roles, countries and languages. When it's digital, onboarding can be managed centrally.
Bespoke elearning content can be updated and rolled out quickly and easily in comparison to face to face training which might involve hiring and training a trainer who then has to travel from one venue to another.
A digital approach benefits the new hire, too. Centrally managed onboarding content should be more robust and consistent than a face-to-face counterpart. This means new hires aren't waiting around for the next training session. They're onboarding, faster, at a time that suits them.
Power to the people
Going digital puts onboarding in the hands of new hires, allowing them to build a personal experience for themselves and their new hire peers.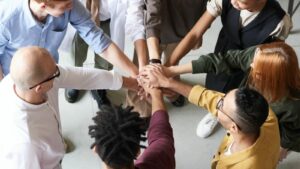 Of course, there will be a need for compliance training that is mandate, but when it comes to welcoming your new hires in and making them feel part of your organisation, who is better to do that than colleagues who understand what they're experiencing – other new hires!
Digital works particularly well for creating forums, communities of practice and group chats where new hires can be encouraged to share their experiences and ask for advice from their peers. These safe digital spaces can be an antidote to the 'video of our CEO' and lecture style face-to-face training that often make up part of a new starter's onboarding experience. Instead, a user-driven experience can allow the real culture of a company come to light and welcome a new hire in.
A golden opportunity
The way we work is changing. In fact, it has already changed. New technology, new systems, new processes, and importantly, new employee needs. Bespoke digital onboarding is an opportunity. It's a way to benefit your business, your new hires and those leading your onboarding programme.
Find out more
Get in touch and have a great conversation with the experts at Mindboost, to find out how can help you craft and deliver a bespoke digital onboarding programme that meets the needs of your evolving workforce.
Why not have a listen to the 'I Love it here' podcast where we talk through these types of topics with different guests.